So it's been nearly 2 months since we started with Workboxes..and I've made a few changes, tweaked a few things , removed and added..you get the idea. I've customized this for our use!
Let's see..we've ditched the various work with mom and help cards.. the kids know what stuff they can do independently and they know what they need me for..the cards caused undo stress on such young kids!
I've added in orange boxes ..seen here: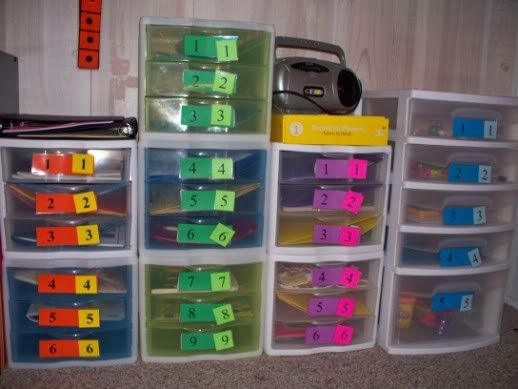 in those orange boxes are all the items we cover as a group. History: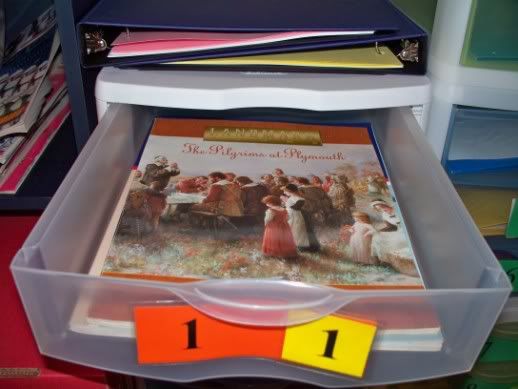 lapbooks: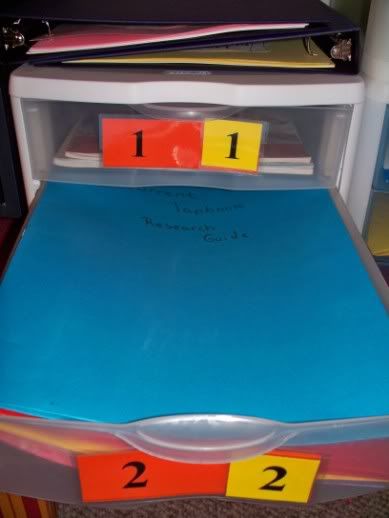 science, geography etc.. anything both "older" kids do together will be in the orange boxes. There is 6 boxes, but like today only 5 are filled. We start the day with the orange boxes. When those are done the kids get a 15 minute snack break before they move on to their own boxes.
Now the biggest change in their own boxes is I now place in a portfolio ( 2 pockets with 3 hole punched space too) enough of their everyday subjects for a whole week. So , for example, in Declan's #1 box is his Math and in the portfolio folder is all lessons/practice sheets for the whole week. I did this so I only have to change out the fun boxes and the rotating subjects every day..this saves me an unreal amount of time!
Now see the small stacks of their individual boxes?>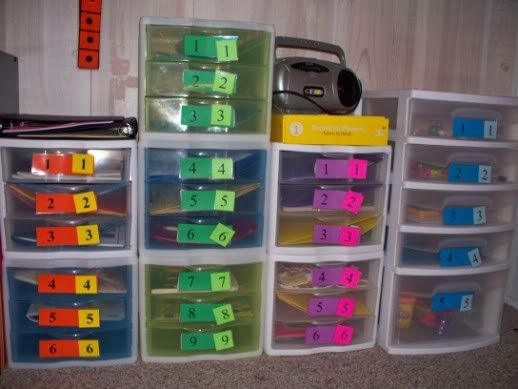 Declan now has a max of 9 alone, Ziah 6 alone. Today Declan has 8 filled and Ziah has all 6 Plus her Hooked on Phonics, which is always her first activity with me. Taejan's haven't changed!
See below for the complete set-up..
My Workbox System ( edited)
I recently learned about then purchased the ebook for Sue Patrick's Workbox System. I read the book, looked at other blogs with samples of them..then gleaned what I wanted and did my own. Now I varied from Sue's idea..which based on the tone of the book I can say she would not like..but I am a tweaker.. I like to make things my own, get what works for me and toss out the rest..so that's what I did. So I am off to show you in every detail what I did for my 3 kids..enjoy. Oh I also must say when I saw one example of this I thought of it as micro managing.. which I won't do to my kids.. but once I saw other more relaxed approaches to this system I saw the real benefits!
This first set if for my 7.5 year old who is on a late 2nd grade early 3rd grade level in most subjects.
Ok..so that's Declan's set up.. it will change as different subjects are needed to be done. I will load this every day after school or at night. It may seem like a lot of work..but it will save me a ton during the actual school day since everything is right there. I am also currently laminating more Learning Centers and File Folder games for his "boxes".
On to Jadziah's. She's 5.5 and working on a late Kindergarten early 1st grade level. She has 9 "boxes" instead of 12 because Art,Music, History and Science are done with Declan and her supplies, for now, will be in with his.
Next up is Taejan. he will be 4 in a month and is basically just learning about life as he goes. I set his up because , as anyone with wee ones knows, they want to so the same things as their older siblings. He has 5 boxes and I have hopes this will help keep him from being so distracting when the other 2 are doing schoolwork.
Now I am certain I will tweak and change, and adjust and reorder..that's just me. This system will force me to be prepared, to not waste time during our school day finding things, getting ready etc. I am also confident that I will have a much easier time doing the "easy to not bother with" tasks and subjects..we all have ones that we don't enjoy so we can skip cus it's easier. Another note..we are busy..not a day goes by where we don't have 1,2 or 5 things to do. Often we start lessons and then have to leave… we return and well.. we don't always get back. I feel seeing a pile of boxes on the floor and the rest stacked will help us get back to finish our work, and that we can not get to can be moved to the first boxes for the next day.
I don't really do lesson plans, I know what I need/want to do..but writing plans..not my thing. I do intend to log what we've done so I can be sure we fit everything in over the course of each week. Also I am going to start "Workbox Wednesday"..i will post various pictures of what they had in their boxes..I hope any fellow Workbox uses will do the same!
I am already getting feedback..here's a question i was asked and my reply:
Q. So will they do the boxes top to bottom, or in any order they'd like? How do the "work with Mom" cards work – do they just bring them to you when they're ready?
A. They will finish them in order starting with 1. The work with mom cards are in the boxes that require me to work with them..this lets them know this. The Help Please cards are given to them at the start of school.. they can use one if they need me to help with an independent box.. not many are given so they can learn to problem solve and work on their own whenever possible.