I've been looking for another way to help Jadziah with her phonics and Declan with his spelling.. I think I found it. Paint Chip Phonics.. you can see a great version of it at Snail's Trail. After you check that post look around..it's an amazing blog! Here's another example Satori Smiles. As always I looked.. thought.. then tweaked.
I love the paint chips..BUT we didn't have the ones with the cut outs.. so we got the big ones, I made a template and cut my own openings. I wanted big ole openings and letters. I also decided NOT to use the 2nd set of chips( with the beginnings). Instead I made my own on the word processor. I wanted to be able to laminate, and store them easier. Afterall I have lots of little hands that will be using them!
So.. here is the finished product…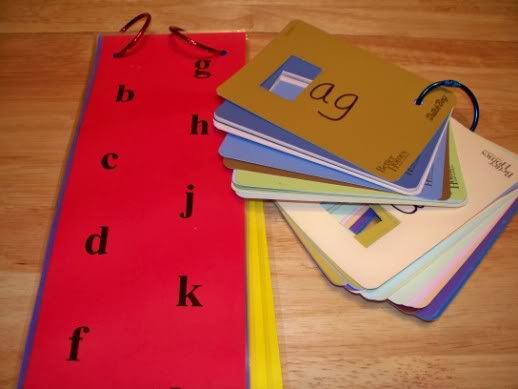 I punched holes and put a ring thru so everything stays together.
All the paint chips: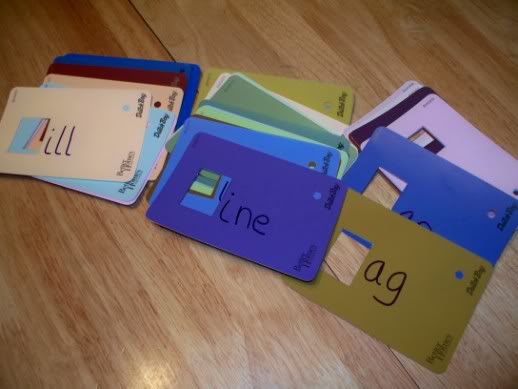 on those 34 chips I wrote:
ag
ab
ail
ain
ack
ake
am
an
ank
ap
all
at
ay
eed
ell
est
ew
ick
ight
ill
ine
ing
ink
ip
ob
og
ore
ot
out
ow
uck
um
unk
y
Here are  the cards with all the beginning sounds: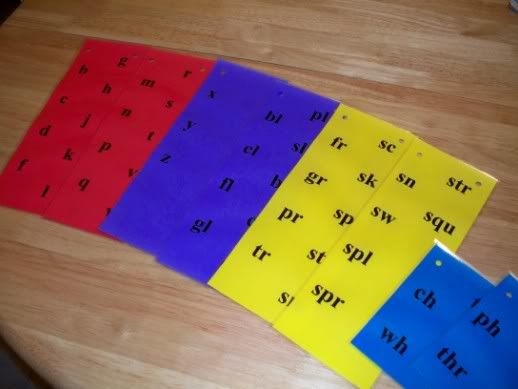 this is what is on those:
Consonants:
b
c
d
f
g
h
j
k
l
m
n
p
q
r
s
t
v
w
x
y
z
Blends:
bl
cl
fl
gl
pl
sl
br
cr
dr
fr
gr
pr
tr
sc
sk
sp
st
sm
sn
sw
spl
spr
str
squ
Diagraphs:
Here ( 4shared) is where you can download the PDF file if you chose to do them the way I did.
Here that are "in use"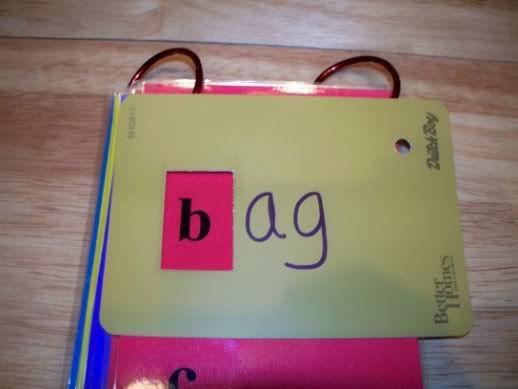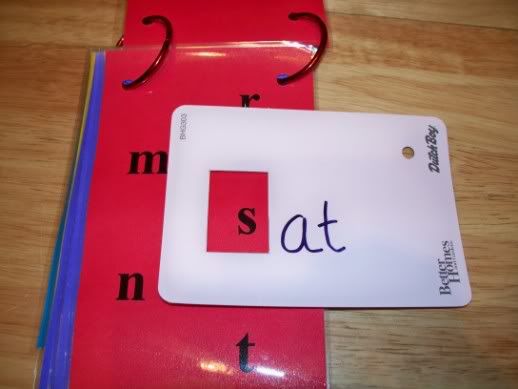 The almost 6 year old has already gotten her hands on them and said "I like this mom" very high praise from her believe me!
I already received a question I think I need to post here..
Q:These are cool…how did you cut out the hole???
A:I just used my slide cutter.. Lifting the cutting blade up when I didn't want it cut and pushing it down when I did. I made one chip then used that as a template, traced the shape on every other chip then cut. It didn't take long and they came out well I think.