We've been using Sue Patrick's Workbox System on and off for well over a year. I bought the ebook..read it, tweaked, tweaked again and yep..I've tweaked again..lol Not a ton has changed from the last tweak..except we haven't used the workboxes in a few months and we really needed to get back to them.
So here's how we are doing them right now!
All our boxes ( bought at Walmart and Target)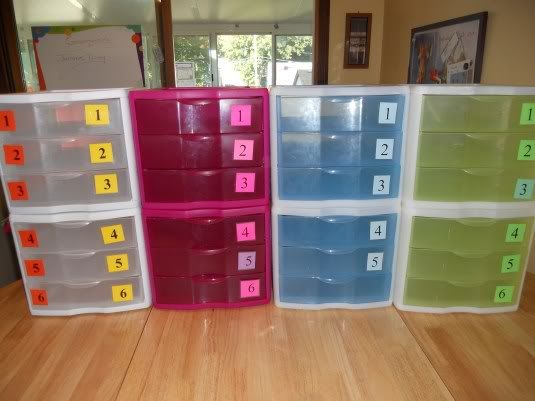 Our new larger grids and the picture cards from Homeschool Creations. Instead of the weekly ones she uses though I just use one and put their names on them instead of the days: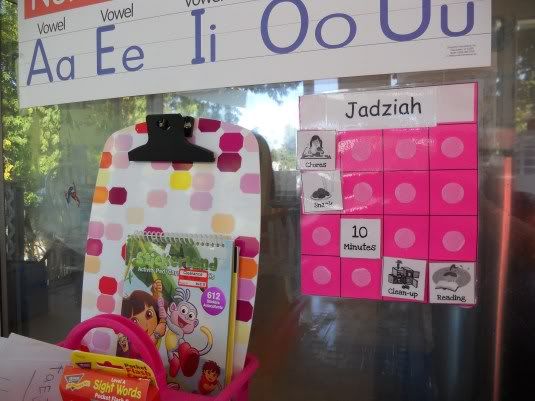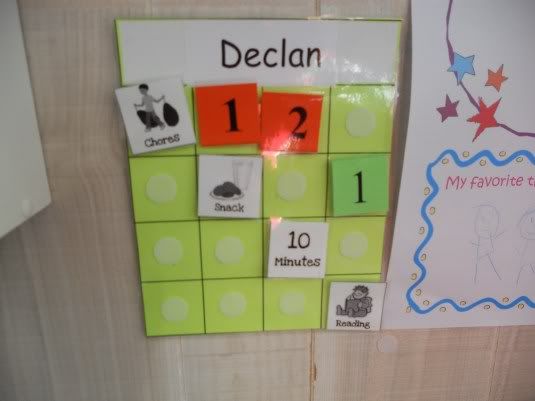 Our Orange and Yellow set…which is the 6 boxes of work they do together. There are two sets of velcro'd numbers on these because Declan and Jadziah are both required to do the work so they need numbers to put on their grid. Taejan is not yet required to sit for subjects like science and history ( even though he does most of the time) so no need for a 3rd set of numbers for him yet.
The open drawers give you and idea of what we put in them. Our first together drawer is always whatever copywork or lapbook we are doing together..right now we are starting a Download n Go unit on Dolphins. The next drawer has some of our Egypt items in it. The rest ( the wee ones History Scribe and Noah's History Scholar) are left on top. Noah only does this box with us then he continues with his own work. The last open box shows pieces from our Blokus game so they know we get to play that before we move on to their own boxes.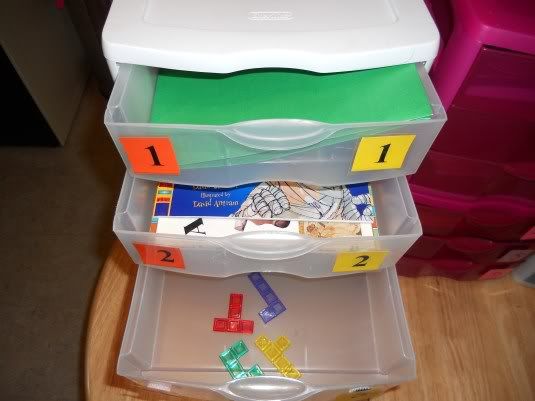 Here's Declan's boxes..Top is a mulitplication wrap up for some math drills, then his Spectrum Writing and last is his Learning Language Arts Through Literature.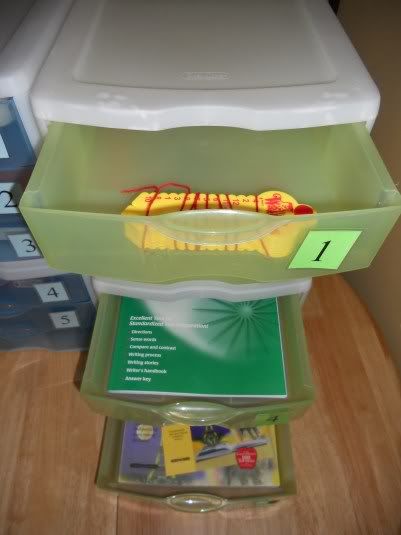 Next are Ziah's boxes. She's pink and purple ( yes I color code my kids).. here's a few of her alone drawers ( she has 4-6 depending on the day). Top one is her A Beka Letter's and Sounds, then the Hot Dots addition for math drills, and then her Sylvan Vocabulary. She does a lot more than that but that's little glimpse: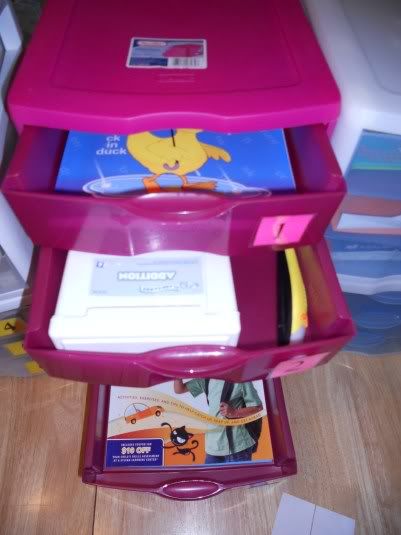 Here's Taejan's.. he does 2-5 boxes depending on his mood..lol.. he's tough..
Top is the LeapFrog Tag and a book, then his A Beka Letters and Sounds, then Alphabet Bingo ( we will all play this and I make it harder for the other 2):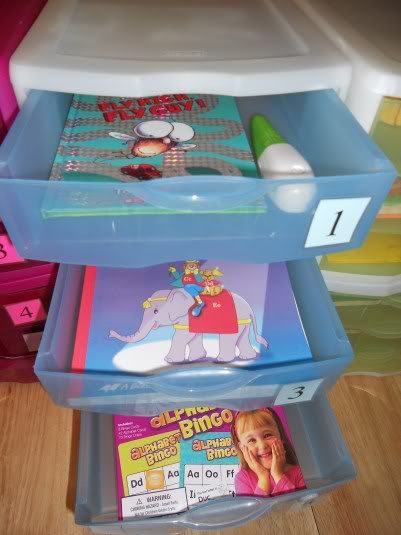 If the boxes go as I "plan" then I will have 2 kids doing either a learning activity or some independent work while the 3rd gets me one on one ( and while Noah is hopefully finishing up his Switched on Schoolhouse!)..BUT we all know things don't always go as planned so we are again using the Waiting Stations. These are beyond a doubt the best sanity saver some days.. here's a few we have used thus far:
The balance.. Taejan and Ziah especially love this for some reason..lol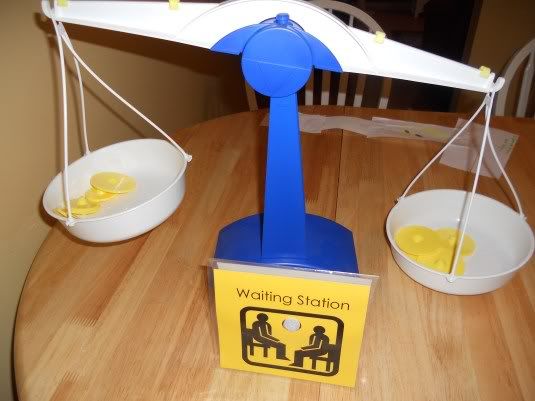 The Light Bright: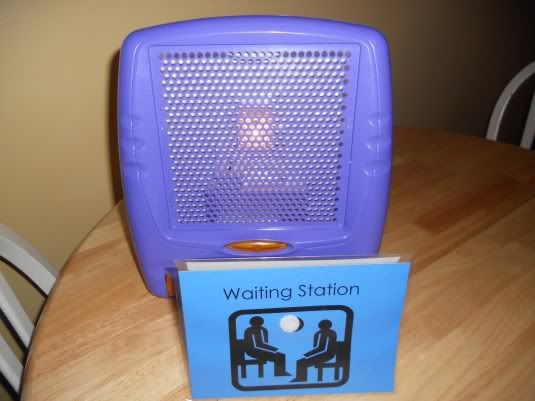 and the Wii.. I usually set up either Wii Fit Plus or Dance Dance Revolution so they are moving while waiting for me!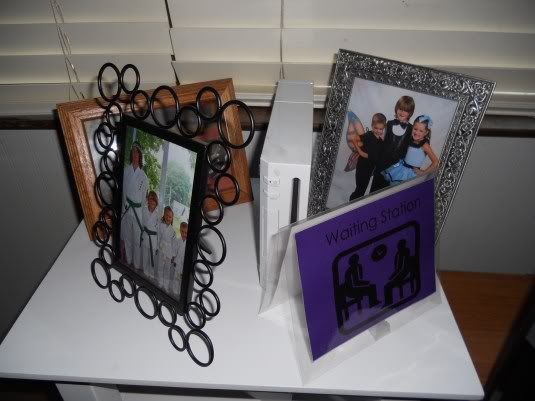 These are the cards that velcro to the waiting station signs that let the other kids know the station is being used and they can't use it..this helps if they started a picture or a game and didn't get to finish: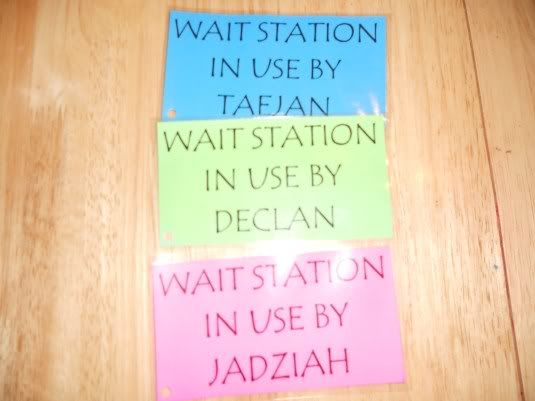 here's the workboxes in the school room..
We have the group boxes in a central location: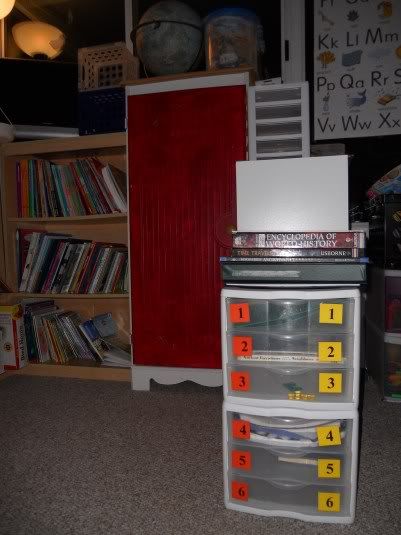 Then each kiddo has theirs near their work stations. One thing different this year is I don't put glue, pencils, crayons etc in each box if they are needed. Instead the kids have a fully stocked supply caddy right on their desk:
Declan's: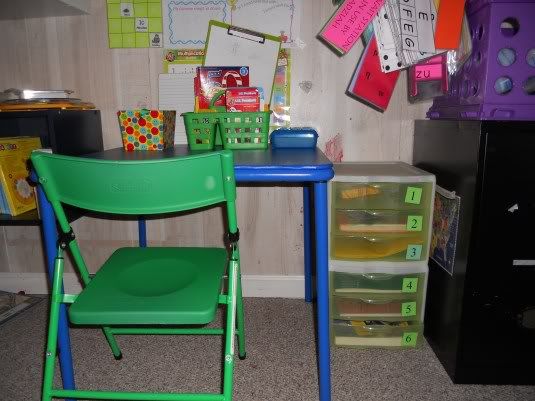 Ziah's: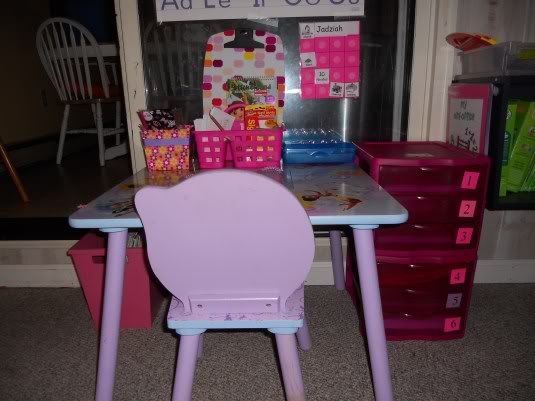 Taejan's: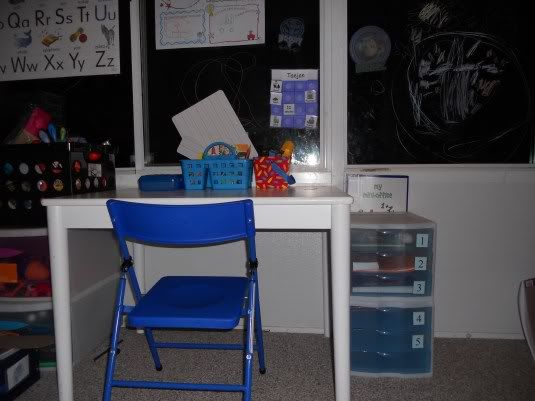 Oh and want a laugh.. while cleaning out the craft cabinet today I discovered I have a wee adhesive issue.. whatcha think?