Here's our first Portable Circle time:
Ahh..circle time.. that staple of the PS system.. usually I run from all things PS like..but this I decided was for us..but our own way. I looked and looked and was very unwilling to pay the prices stores wanted for a standard Circle Time setup..plus none met the needs of 3 kids in various grades ( preschool, K and 2nd)..so being me ..I decided to make my own!
So I started with an Elmers Fold-Out display board: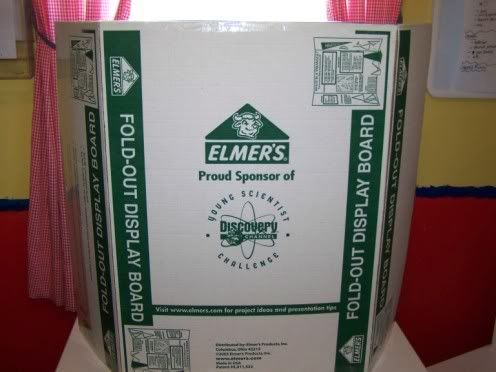 Then I glued construction paper to that , let it dry overnight and covered that with clear contact paper. Next I started adding the "stuff" I wanted..this is what I ended up with: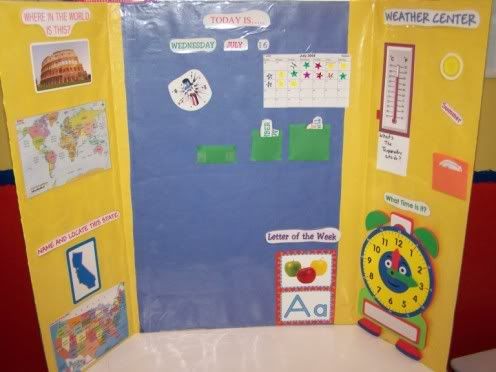 Left side top.. A flash card from Target with a World site and a World Map: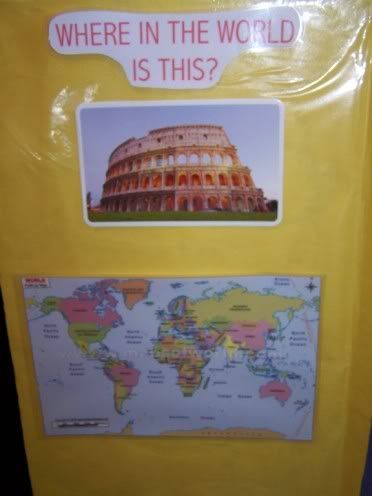 Left side bottom, a flash card from Target with a US State and a US Map: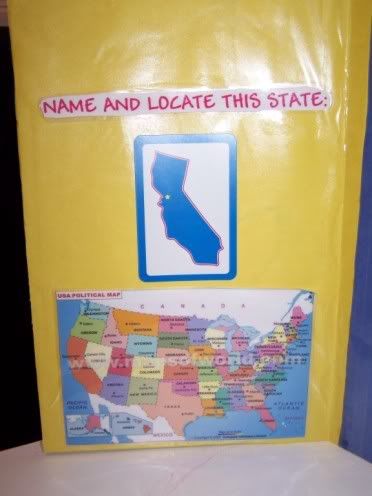 Center top: Calendar, all changeable and a full month calendar so we can mark off the days: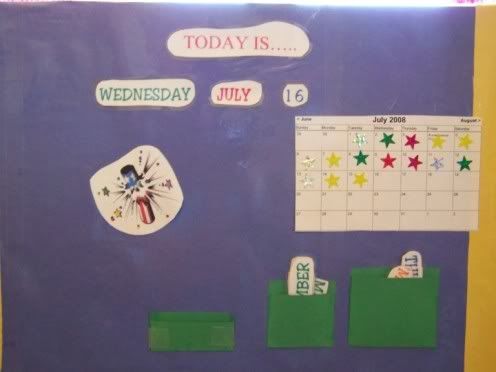 Center bottom: Letter of the Week and extra space.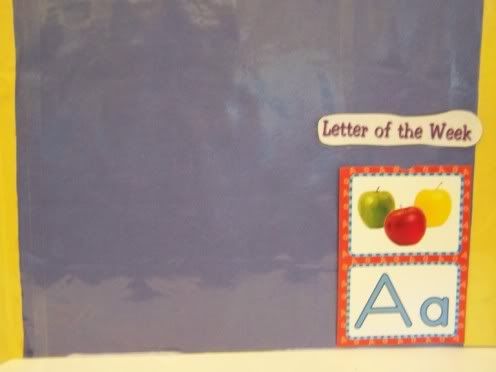 Right side top: Weather Center, A bunch of different weather graphics, a Thermometer that the temperature can be moved up or down accordingly and what season we are in.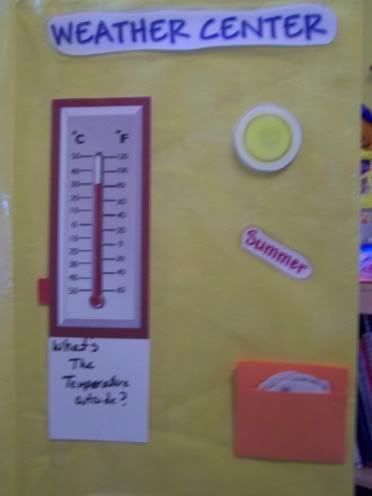 Right side bottom: A teaching clock so they can all practice and learn telling time on an analog clock.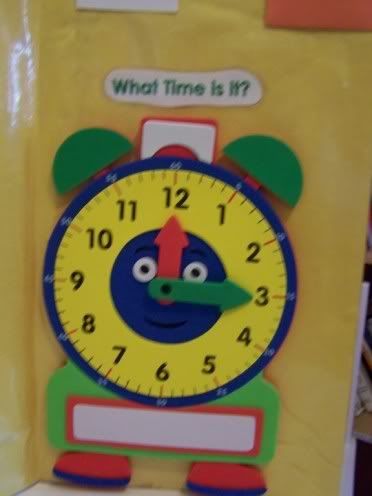 I am looking for any idea's on what I can/should put in the extra space.
Also the backside is about to become a portable Bulletin Board that will hold anything related to our Monthly Theme..pictures soon!!
Update… after already getting some great idea's THANKS Jenn.. I have decided to make this a double sided Circle Time!!! Yeppie.. I will begin working on the other side tonight!! Keep sending me more idea's!!
We Tweaked the Circle Time after a little while:
Well i have spent the last week tweaking the Portable Circle Time.  I added more stuff and tried to make it appeal to all 3 younger ones. I still have a few empty spots so if over time I find something I want to add I can..but here it is! ( if you'd like more detailed descriptions of some of the items see the original post)
Tje front.. I put felt pieces I had and glued them all over ( hence the mismatched colors) . Then I put the weather station and date and the new How Many Days of Learningas well as the Learning Center which will change theme weekly.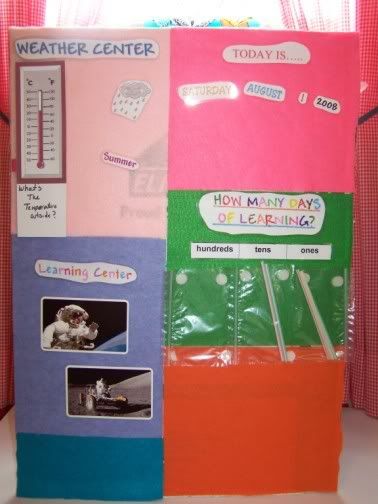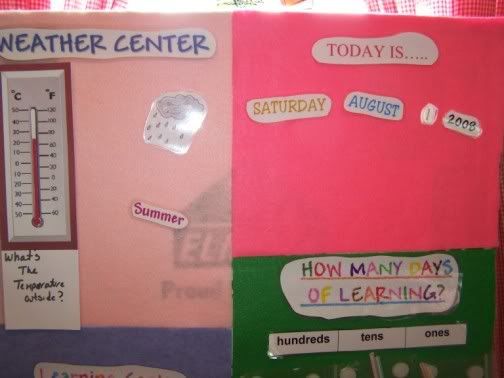 The How Many Days of Learning is simply snack size baggies turn on their sides and the tops cut off, then hung with velcro. ( I am trying to keep the cost of this whole center down)
The back flaps are where I am storing the extra Straws, dates, months, weather items:
The inside: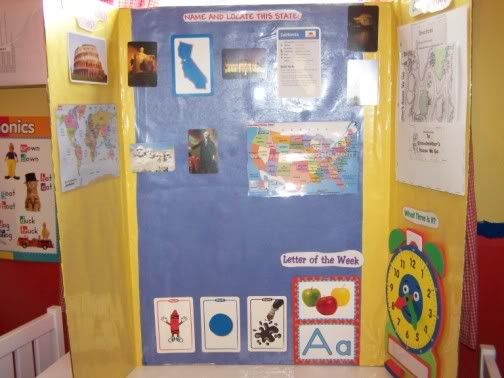 World Geography:( these and all the other "flash cards" came form the dollar spot at Target)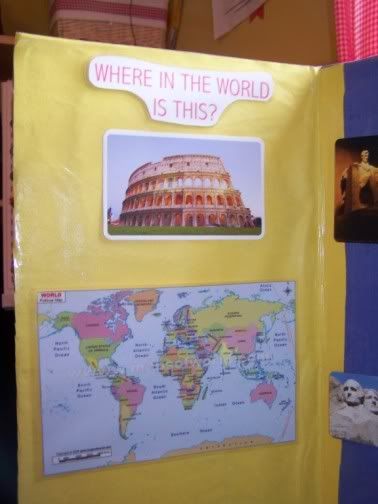 US Geography: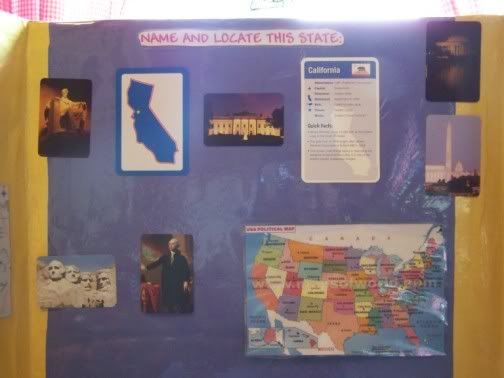 Colors,Shapes and letters: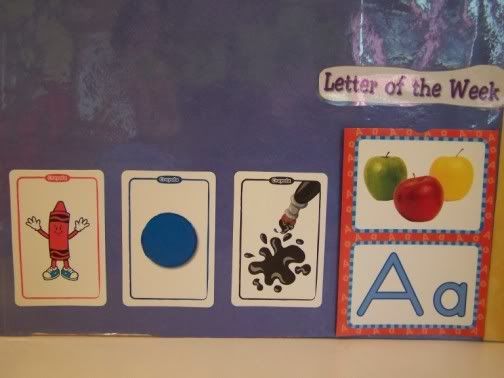 Game time..make from different "Learning Centers" from ebookdestination.com I will change this every few days..I have about 100 of them all made and ready to use covering science, geography,math, reading etc: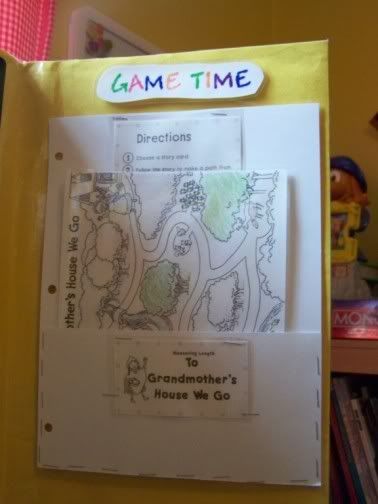 And our clock to practice telling time!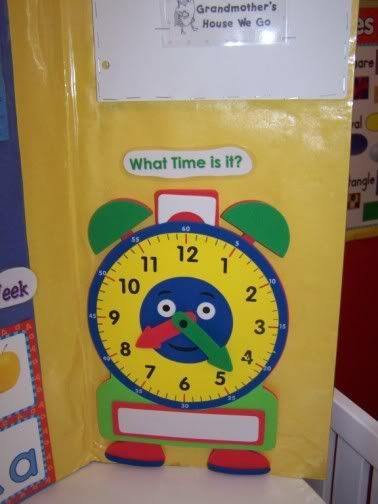 Our Grammar board:
So..I finished with my Grammar project.. need a name for it..help??
It's drying, so once that is done I have to add some peel and stick laminate to protect it. I REALLY think Declan will like this much better than worksheet after worksheet..
So here's the front:
and inside.. I have a blank spot on the right upper corner.. still brainstorming what to put there: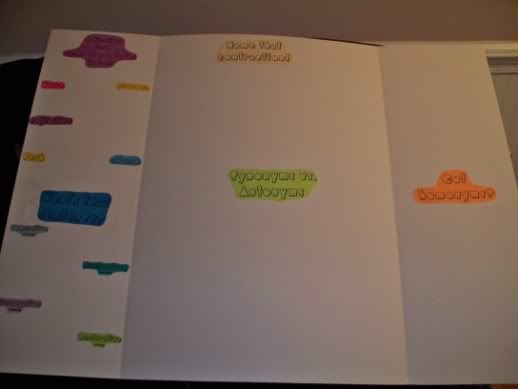 Here the kids will decide what the word is and put it on the appropriate part of speech

I will either tell them a sentence orally and they can tell me which type it is or I will give them sentences and they will place them on the right type.

This is the space that they can build or "unbuild" contraction words.

here they can compare synonyms and antonyms..

and the space for matching up homonyms

I've been looking for another way to help Jadziah with her phonics and Declan with his spelling.. I think I found it. Paint Chip Phonics.. you can see a great version of it at Snail's Trail. After you check that post look around..it's an amazing blog! Here's another example Satori Smiles. As always I looked.. thought.. then tweaked.
I love the paint chips..BUT we didn't have the ones with the cut outs.. so we got the big ones, I made a template and cut my own openings. I wanted big ole openings and letters. I also decided NOT to use the 2nd set of chips( with the beginnings). Instead I made my own on the word processor. I wanted to be able to laminate, and store them easier. Afterall I have lots of little hands that will be using them!
So.. here is the finished product…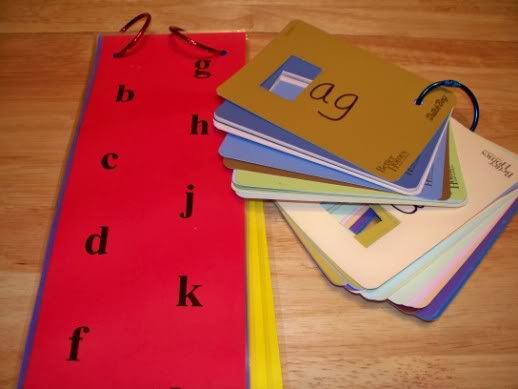 I punched holes and put a ring thru so everything stays together.
All the paint chips: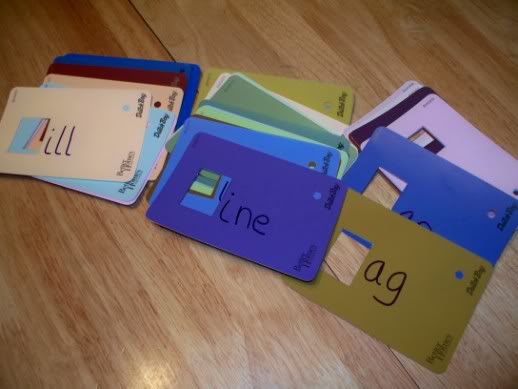 on those 34 chips I wrote:
ag
ab
ail
ain
ack
ake
am
an
ank
ap
all
at
ay
eed
ell
est
ew
ick
ight
ill
ine
ing
ink
ip
ob
og
ore
ot
out
ow
uck
um
unk
y
Here are  the cards with all the beginning sounds: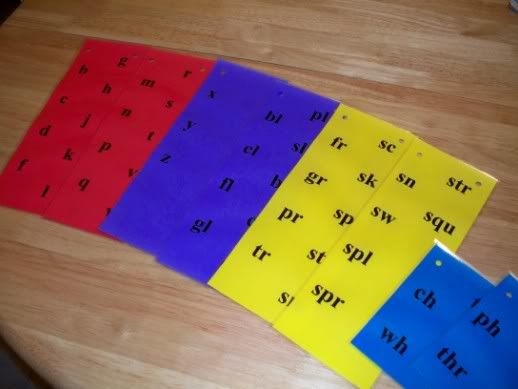 this is what is on those:
Consonants:
b
c
d
f
g
h
j
k
l
m
n
p
q
r
s
t
v
w
x
y
z
Blends:
bl
cl
fl
gl
pl
sl
br
cr
dr
fr
gr
pr
tr
sc
sk
sp
st
sm
sn
sw
spl
spr
str
squ
Diagraphs:
Here ( 4shared) is where you can download the PDF file if you chose to do them the way I did.
Here that are "in use"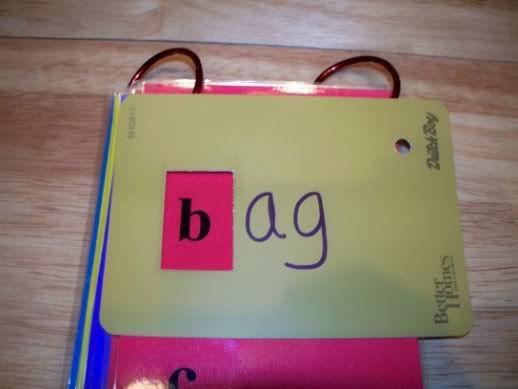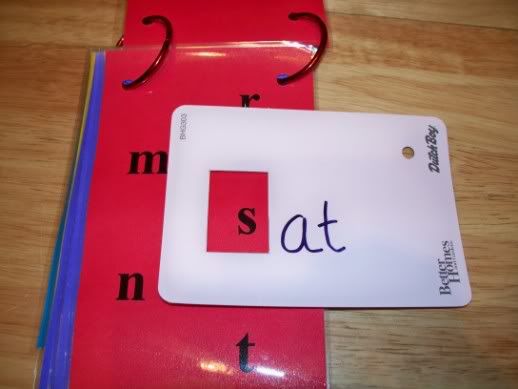 The almost 6 year old has already gotten her hands on them and said "I like this mom" very high praise from her believe me!
I already received a question I think I need to post here..
Q:These are cool…how did you cut out the hole???
A:I just used my slide cutter.. Lifting the cutting blade up when I didn't want it cut and pushing it down when I did. I made one chip then used that as a template, traced the shape on every other chip then cut. It didn't take long and they came out well I think.
I made Taejan a learning poster: