I will tie all our different messy art projects into this one page for ease of use!
Messy Art #1 exploding paint: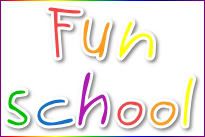 We were supposed to have Thunderstorms all afternoon today..but that didn't happen ( yet) so I decided after Daddy left for work we'd have some unplanned outside fun!
So what happens when you combine these items?
with these clean kids?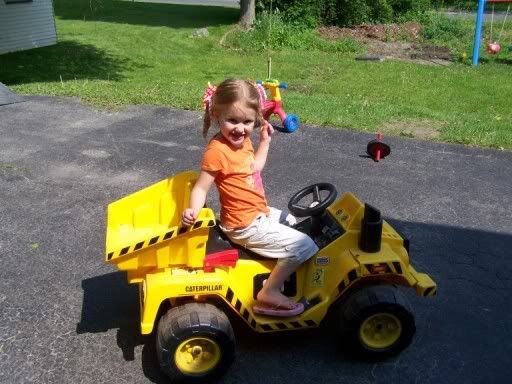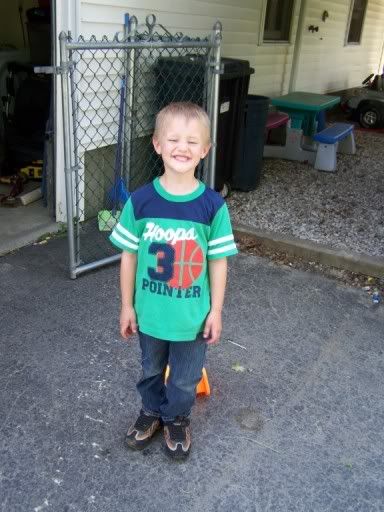 well you get a whole lot of FUN ( and a stick in the mud 2 and 4 year old..LOL)
First we tried in on paper like the person I heard about this from said to: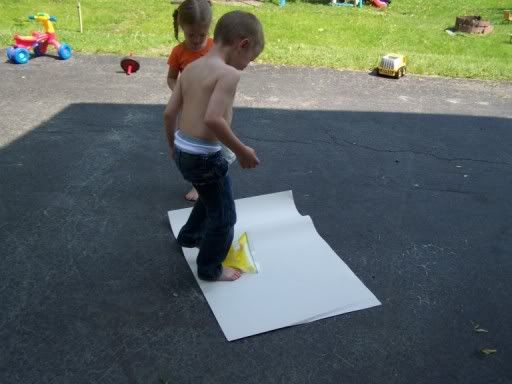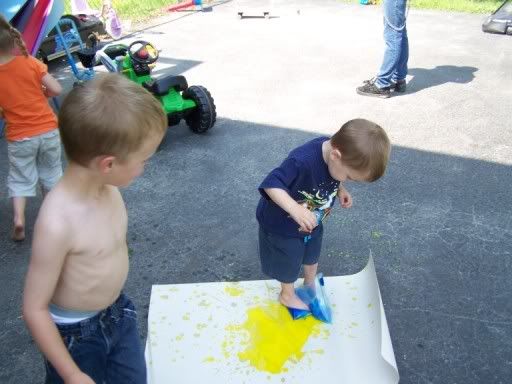 Right here is where Taejan and Ziah decided this was NOT for them…. Ziah didn't like getting messy ( DIVA) and Taejan didn't like the popping noise: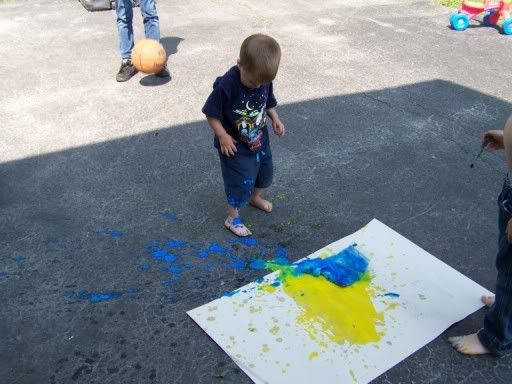 BUT Sir Declan of Moodyville LOVED it.. I mean LOVED it..he made my day with how much fun he had!!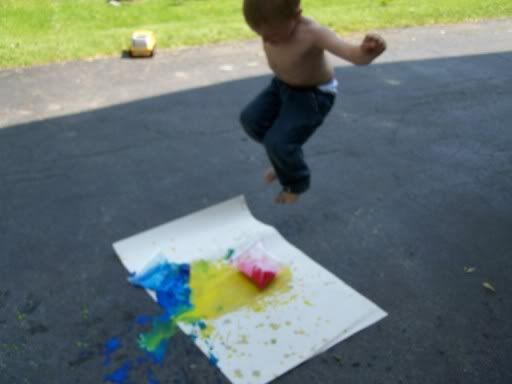 and this is the point we decided to skip the paper!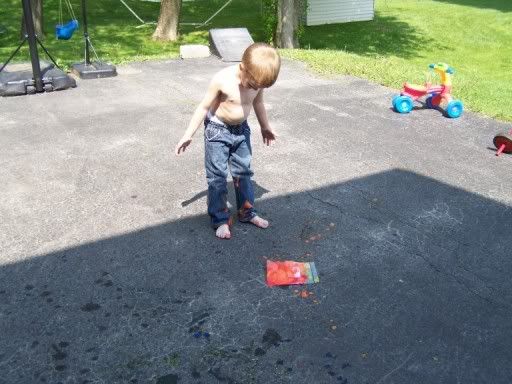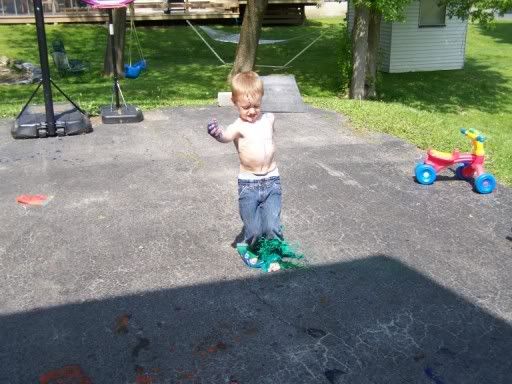 Doing the "I LOVE THIS MOM" dance..rofl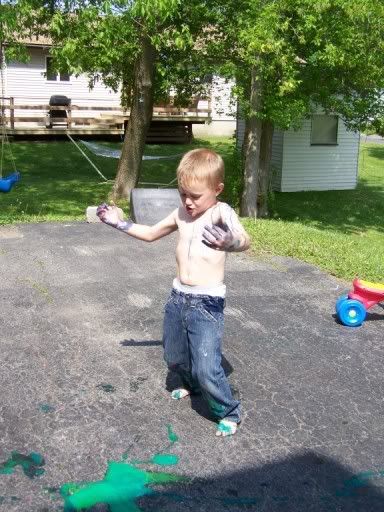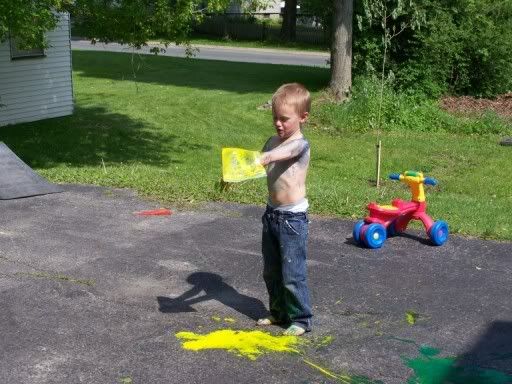 Noah helped make a few of them, although he was slightly challenged by the whole..zip up the bag thing..LOL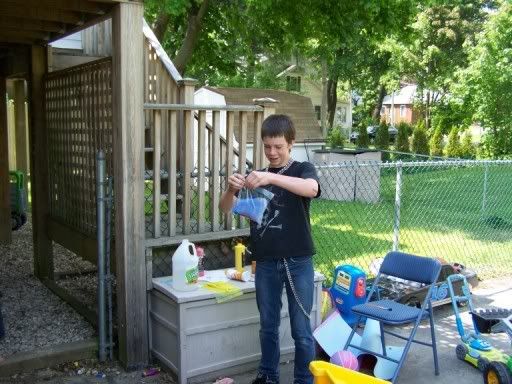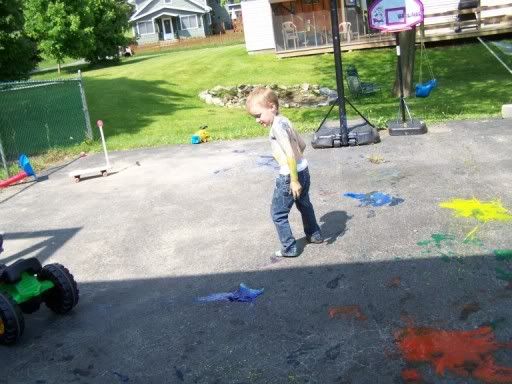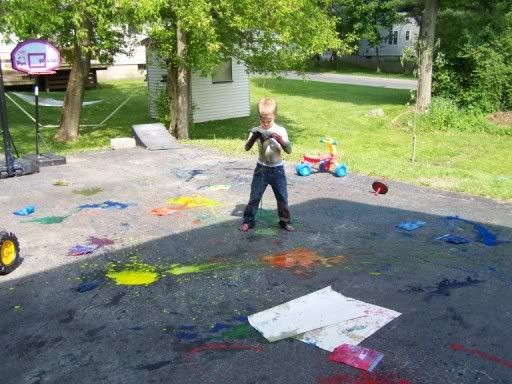 I am the proud owner of a tie dye kid and driveway..LOL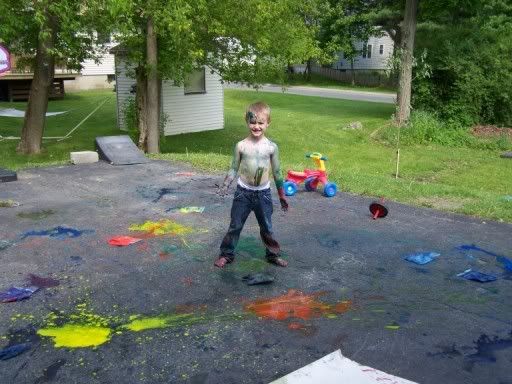 on to the clean up..even the littles got involved!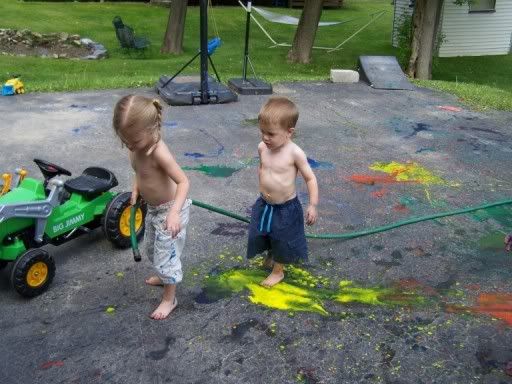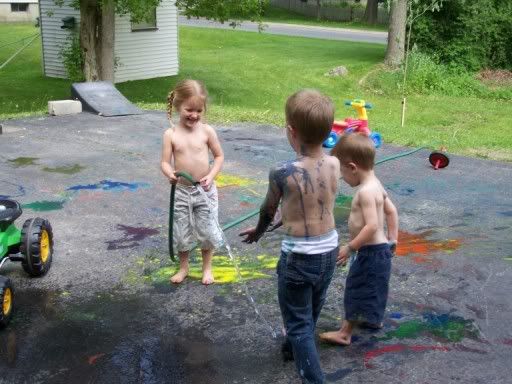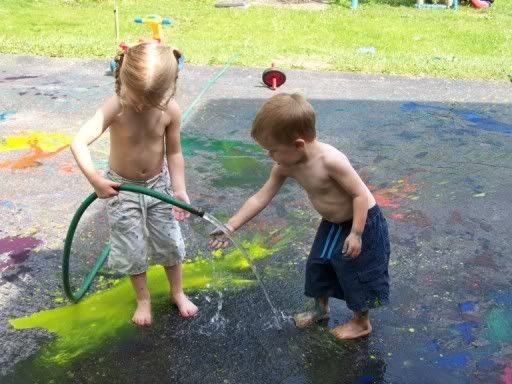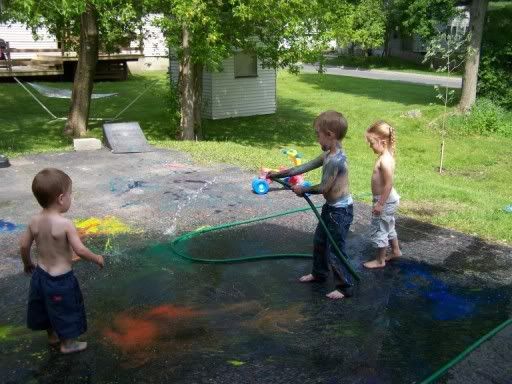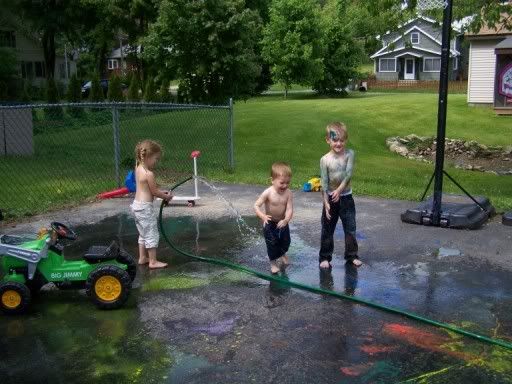 "Poor" Declan is still blue even after a super long shower..LOL> but he wants to "do this experiment AGAIN momm"…LOL
So exactly what did we do? well here is the original instructions:
Cut a paper towel into fourths. Put one tablespoon of baking soda in the middle of each section and fold the paper around it. Put each "pillow" into its own plastic ziplock bag.
Add a few squirts of tempra paint (the more you add, the more intense the color, obviously), and then add 1/2 cup vinegar.
Seal bag and shake. Put bag on large piece of paper and let it explode, jump on it to make it explode…whatever. Then use paintbrushes, feet, hands, etc. to spread the paint around on the paper.
after the first few we skipped the paper towel and just loaded up the baggie with paint then loaded it with baking soda and dumped in the vinegar and closed the bag FAST..let it "rise" and JUMP.. The paint washes off so no worries about messes lasting!!!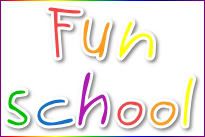 Messy Art #2 Paintable Chalk
The other day I made the kids paintable chalk.. It's Corn Starch,water and food coloring..some say equal parts of the corn starch and water..but I mixed way more starch so the "paint" would be thick like tempera paint…you just have to mix a little at a time. Well they LOVED it..went on like paint but dried like chalk..very cool!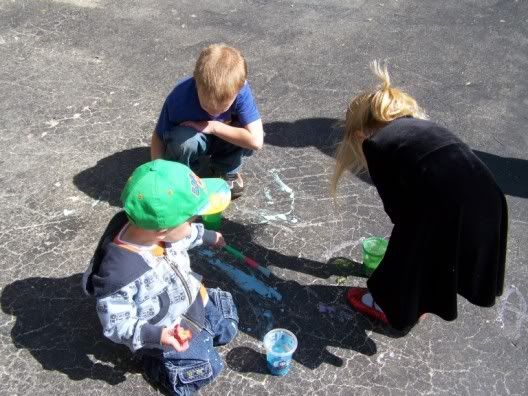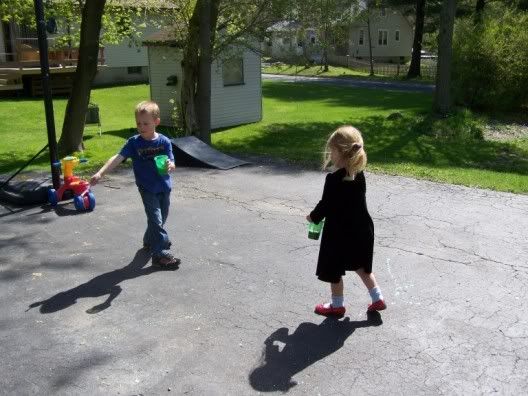 More Messy Art
Last night after Daddy went to work we decided to try another Messy Art project…these were the tools: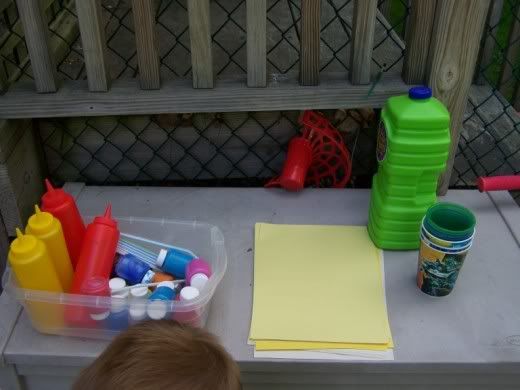 it started out as Bubble Prints: 1inch water,1inch tempra paint,one inch bubble mix… and a straw…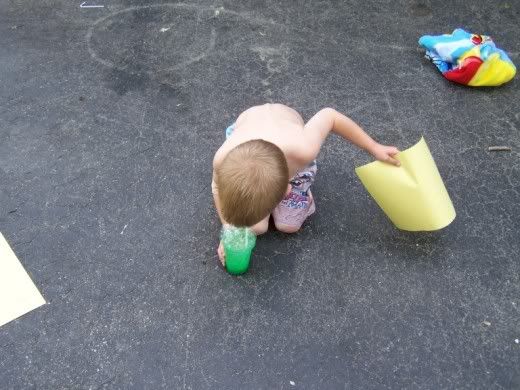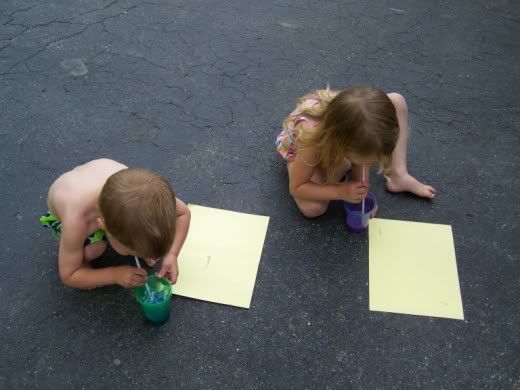 Taejan soon decided that was NOT nearly as fun as it could be: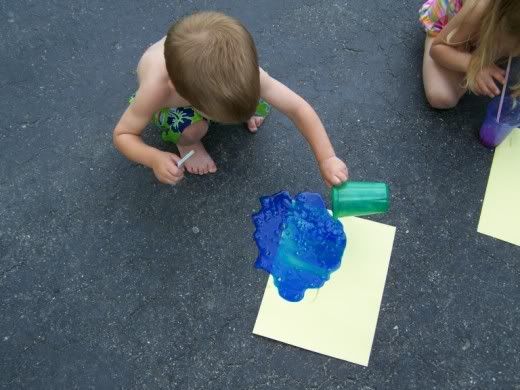 Declan and Ziah stayed the course..for awhile: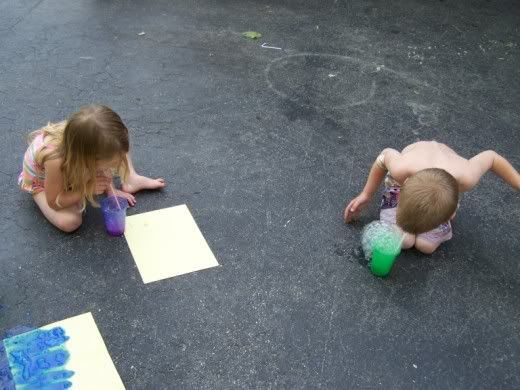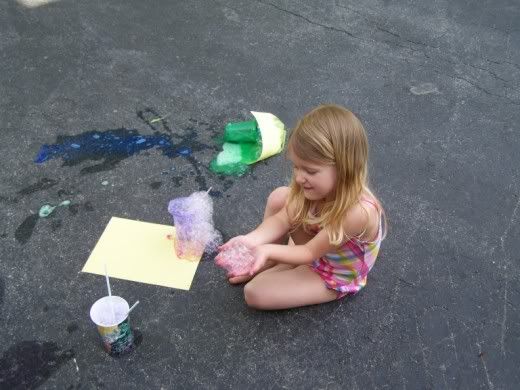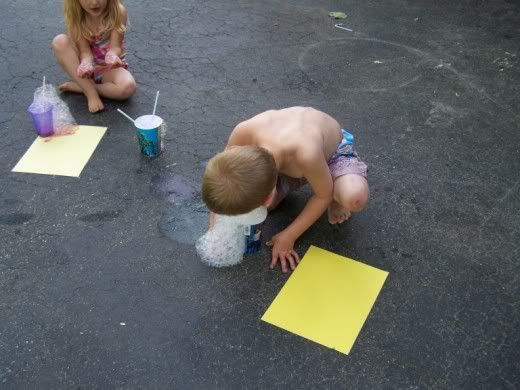 but after one print each..well… it got MUCH more fun to explore the colors an medium MUCH …um.. further?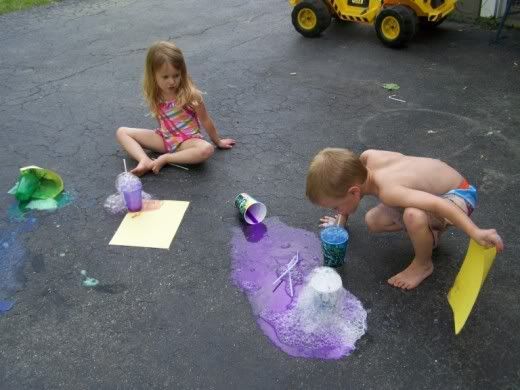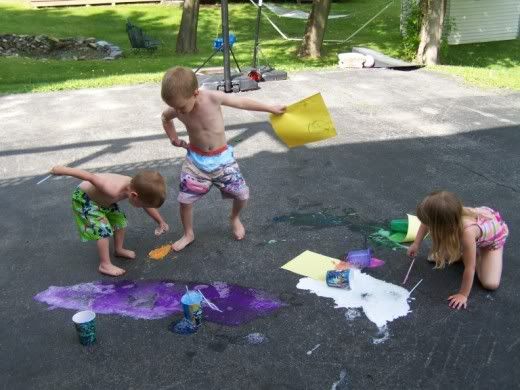 notice this time I put them in swim suits..LOL
before long the mad scientists in them emerged and I was no longer needed for the mixing and color making…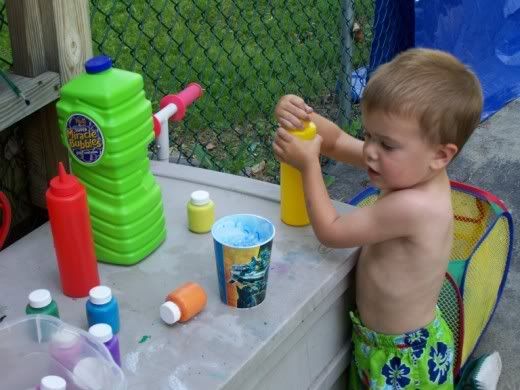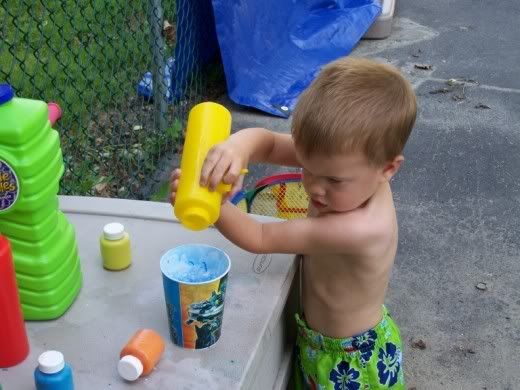 Even if bubble prints don't work out, the bubble mix, water and paint mixture is VERY neat to work with and if your a brave parent I highly suggest you allow the kids to explore…cus it is FUN!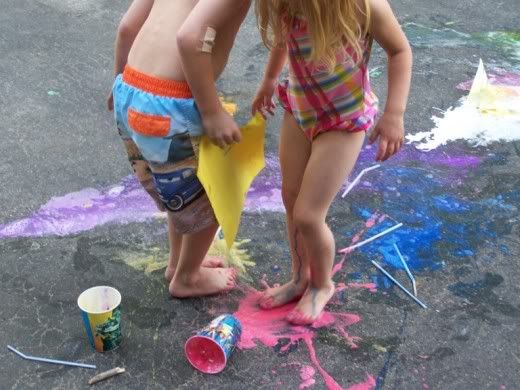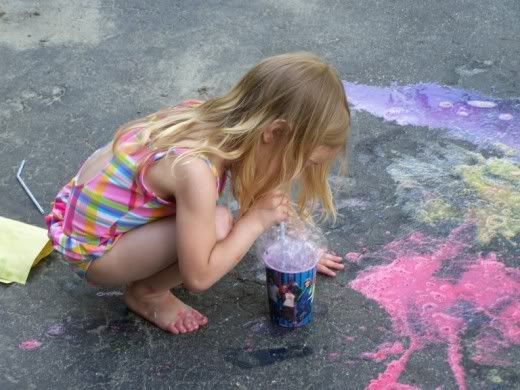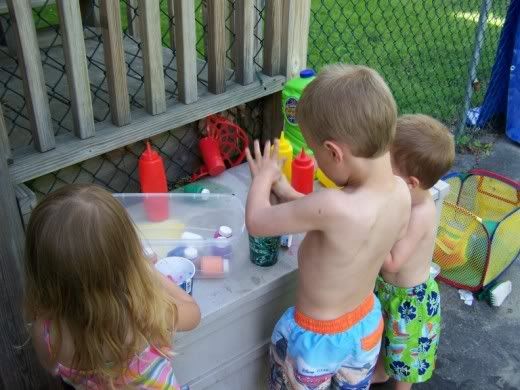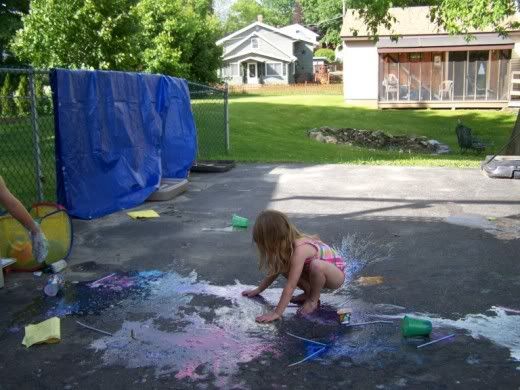 Anything was game for painting, moving,and mixing..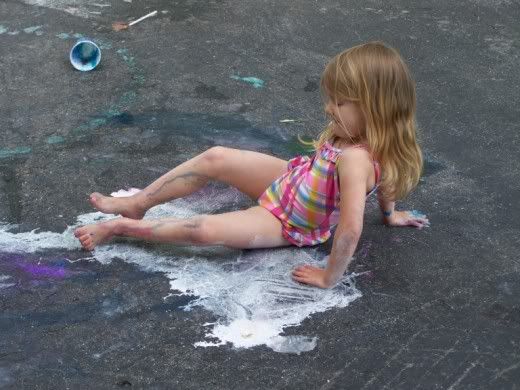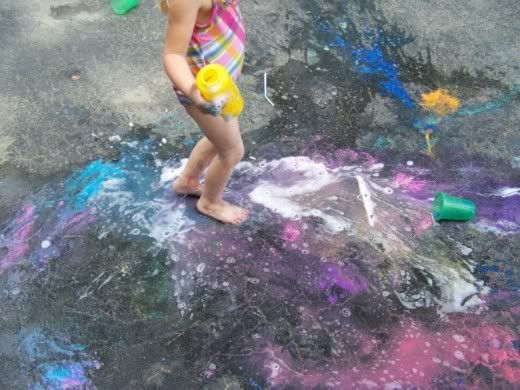 now I bet I have the prettiest driveway in the neighborhood..at least time it rains!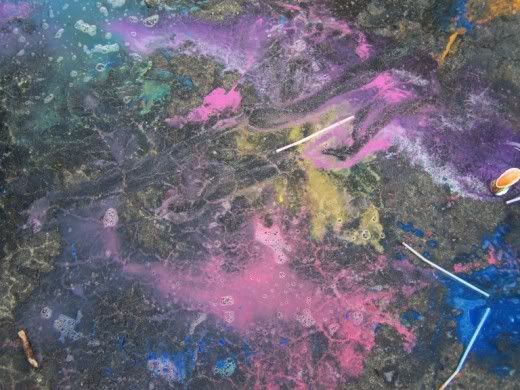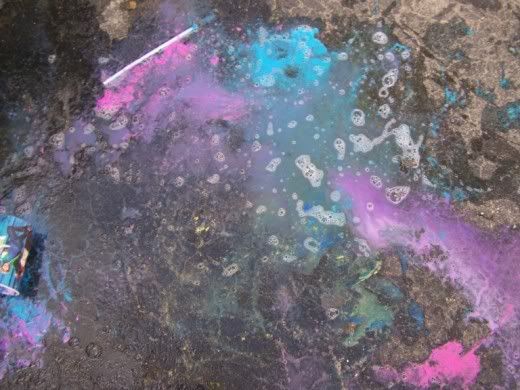 Noah decided to join us.LOL>.. by the time we were done he was a little multi colored himself…LOL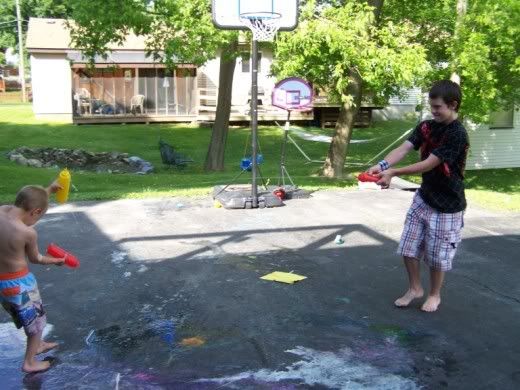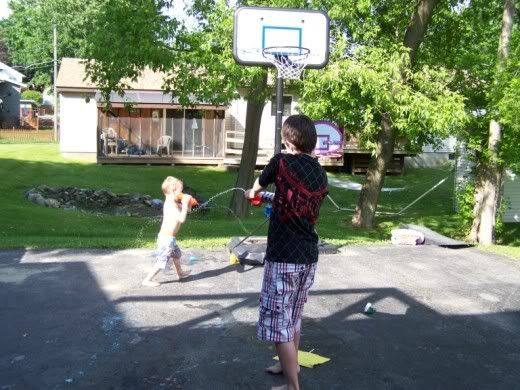 Hum…. I have a few more Messy Art idea's..so check back in a week or so to see what else we did!!!